Nov 6: The Rohani lab welcomes Jerome Niogret, who is joining us from the University of Montpellier. Jerome will be working on the coevolutionary dynamics of the Plodia-Venturia system.
Nov 4: The book by Keeling & Rohani titled Modeling Infectious Diseases is published by Princeton University Press. For more information or to download accompanying computer code, click on the cover image.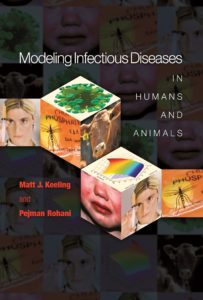 Nov 1 : Congratulations to Daniel for the following paper: Cui J, Han N, Streicker D, Li G, Tang X, Shi Z, et al. Evolutionary relationships between bat coronaviruses and their hosts. Emerg Infect Dis. 2007
Nov: Daniel gives departmental seminar at Amherst College Dept of Biology in Amherst, Mass.
Aug: Congratulations to Daniel for being invited to give talks at the North American Society for Bat Research Conference / International Bat Research Conference in Merida, Mexico, as well as the Peruvian Ministry of Health in Lima, Peru.